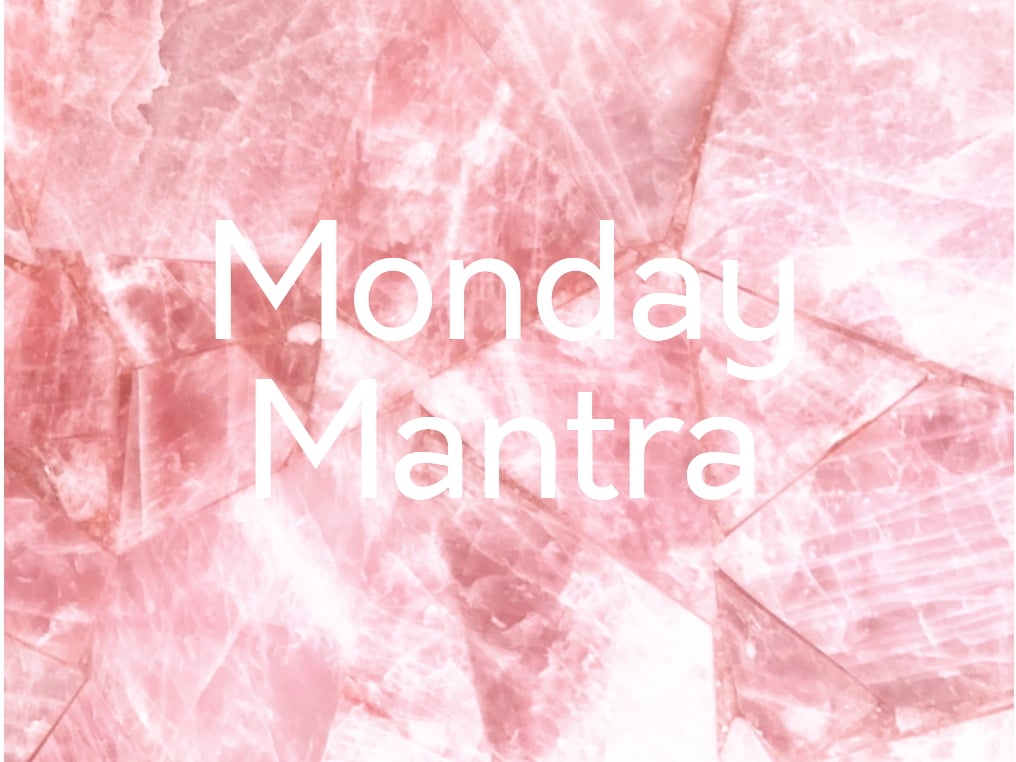 01 Avr Bibliothèque de mantras
Un nouveau mantra vient s'ajouter régulièrement à la liste ci-dessous. Choisissez-les selon vos besoins, appropriez-vous votre mantra !
A mantra for every occasion. Pick yours !
Un mantra est un mot ou une phrase que l'on répète pour s'en imprégner. C'est un message fort adressé à soi pour se donner confiance, changer de croyance, et devenir le reflet de ce message.
A mantra is a word or a sentence that you repeat again and again. It's a powerful message to yourself.
___
S'aimer/Self-love
🌟 Je m'aime et je m'accepte totalement, avec mes faiblesses, mon côté obscur, mon passé et mes erreurs. Ils font ce que je suis aujourd'hui, quelqu'un d'entier, unique et aimable tel qu'il est.
🇬🇧 I love myself, i accept and embrace my weaknesses, my dark side, my past and my mistakes. They are parts of who i'm today, whole, unique and lovable as i'm.
🌟 Mantra pour votre enfant intérieur. Je t'aime, je suis fier de toi, je serai toujours là pour toi. Parce que sous notre peau d'adulte il reste toujours celle de l'enfant qui a besoin d'attention, d'encouragement, d'un parent.
🇬🇧 For your inner child. I love you, i'm proud of you and i will always be there for you. Because inside of your adult skin, there is always a child who needs attention.
Gratitude
🌟 Je choisis d'avoir de la gratitude pour ce qui va bien dans ma vie plutôt que de me plaindre à propos de ce qui ne va pas. Je choisis de vivre du côté qui me donne du pouvoir.
🇬🇧  I choose to be grateful for what is good in my life rather than complaining for what bothers me. I choose the powerful side.
🌟 Merci pour… ajoutez au moins une chose par jour. Pratiquer la gratitude est le plus beau cadeau que vous puissiez vous faire. Elle vous fera réaliser que vous êtes déjà heureux.
🇬🇧  I'm grateful for… add at least 1 thing everyday. That's the best gift you can do to yourself. Gratitude will make you understand that you can be happy just with what you have.
🌟 Ce n'est pas tout à fait un mantra, mais plutôt un rituel de réveil, comme dans les histoires pour enfants où l'on dit bonsoir à la lune et aux étoiles avant de dormir :
Bonjour l'univers, le tout absolu,
Bonjour la Terre, ma maison,
Bonjour la nature, la vie, l'esssence,
Bonjour les êtres vivants, les animaux, les humains,
Bonjour ma vie, bonjour moment présent,
Bonjour (vous).
En disant bonjour, je reconnais et je salue ce qui existe, j'ai de la gratitude, je tiens compte de ce qui existe et je prends conscience de faire partie d'un tout, enfin je prends plus activement part à la vie.
🇬🇧 More than a mantra, it's a morning ritual, inspired by children books in which we say good night to the moon and stars before sleeping.
Goodmorning universe,
Goodmorning planet Earth, my home,
Goodmorning nature,
Goodmorning animals & human beings,
Goodmorning to my life in the present moment,
Goodmorning to myself.
When i say that, i recognize and honor the elements, i feel grateful and part of the universe.
Pouvoir/Power
🌟 Je fais de ce que j'ai maintenant, quelque chose de puissant.
🇬🇧  I turn what i have right now into something powerful.
🌟 Je crée ma vie et je suis doué(e). Cette phrase me fait immédiatement me sentir bien. Comme dit le proverbe, quand la vie te donne des citrons, fais de la limonade. Acceptez ce que vous avez et faites-en quelque chose de bien : )
🇬🇧  I create my life and i'm good at it. When i say that, i feel immediatly powerful and it makes me smile. As we say, when life gives you lemons, make lemonade. So make the best of what you've been given, you always have choice.
🌟  Aide-toi et l'univers t'aidera. C'est la phrase la plus puissante que je connaisse, ça a aussi toujours été ma devise. Si vous voulez voir les choses changer, commencez par vous-mêmes et tout en découlera. Le monde est le reflet de chacun d'entre nous.
🇬🇧  Help yourself and the universe will help you. It's more like a statement, a motto. Help yourself first and everything is going to help you this way. Everything begins with you. If you want to change the world, look at you first. The world is only a reflection of everyone.
🌟 Aujourd'hui je vis cette journée de manière optimale, en fonction de qui je suis et de ce que j'ai. Une autre façon de dire « quand la vie nous donne des citrons, faisons de la limonade », tirons le meilleur parti de ce que la vie a à offrir exactement aujourd'hui.
🇬🇧 Today, i experiment life the best way i can with who i am and what i have right now. It means that no matter where i am or what situation i'm in, nothing is perfect but i can take it and make the best of it. This a statement to make everyday.
A créer/Build it
🌟 Mantra à créer : trouvez d'abord 3 mots qui vous définissent de façon positive dans votre vie actuelle, dans votre situation, à votre âge. 3 mots qui valorisent qui vous êtes aujourd'hui. Répétez votre phrase chaque jour :  » Je suis (1er mot), je suis (2e mot), etc« .
🇬🇧 Build your mantra : First you have to find at least 3 positive words that define you today. Then you repeat your mantra everyday for yourself. « I'm… 1rst word…., i'm… 2nd word, etc« .
🌟 Fabriquons un mantra ensemble ! Chacun a le pouvoir de créer son quotidien grâce à ses pensées, ses paroles et ses actions. Jour après jour c'est votre vie entière que vous créez. Voilà le début du mantra :  » je suis le créateur(trice) de ma vie et de mon bonheur, aujourd'hui je… » A vous d'inventer la suite. Soyez creatifs ! Pensez à l'humeur et l'énergie que vous voulez développer, à vos projets… Et faites-en un mantra puissant !
🇬🇧 Let's build a mantra together ! We all have the power to create our day, with our thoughts, words and actions. Day by day that's the way we create our life. Here is the beginning : « I'm the creator of my life and happiness, today (fill in with what you want to set up today) ». Be creative ! Think about your mood, your energy, your projects, and build a powerful mantra.
🌟 Choisissez un mot positif, comme amour, paix ou lumière par exemple. Fermez les yeux puis répéter ce mot en même temps que chaque nouvelle respiration, le ressentant dans chaque cellule du corps.
🇬🇧 Choose only one word today for your mantra, as light, love, peace… Something positive of course. Close your eyes, and on each breath repeat the word feeling the light or the love or the peace in every cell of your body.
🌟 Il y a une chanson de Maxime le Forestier qui dit « comme un arbre dans la ville, j'ai la fumée des usines pour prison, et mes racines on les recouvre de grilles ». En ville nous sommes un peu comme des arbres déracinés, maltraités. Si vous n'avez pas la possibilité de replanter vos racines dans la forêt, imaginez-le et faites-en un mantra. Sentez vos racines connectées à celles des autres arbres, vos branches s'étendant sans limite, votre cime cherchant la lumière du soleil. Faites de vos sensations votre mantra. L'arbre est un puissant symbole d'équilibre, de vie, d'ancrage et de sagesse.
🇬🇧 Do you ever feel like an uprooted tree in the city ? Stuck between buildings, with no space to spread your wings… If you do, sit in a comfortable position, close your eyes and for a few seconds, imagine you're a tree in the forest. Feel your roots in the soil, connected to other trees around, your branches floating and expanding without limitations, looking for the sun kiss, and tell yourself the story of you as a tree, using what you feel as a mantra. The tree is a powerful symbol of freedom, wisdom, grounding, balance and life.
🌟 Une nouvelle semaine commence, choisissez un mot qui guidera votre intention. Amour ? Pouvoir ? Détermination ? Paix ? répétez-le plusieurs fois chaque matin au réveil pour ouvrir la voie 🙂
🇬🇧 It's the beginning of the week, choose a word that will lead your week. Love ? Power ? Determination ? Peace ? Repeat this word a few times every morning this week 🙂
Abondance/Abundance
🌟 Je fais partie de l'univers, je prends part à l'abondance, je la crée car je partage mes bonnes énergies avec le monde et le monde partage ses bonnes énergies avec moi.
N'ayez pas peur de prendre… Le bonheur, les compliments, les bonnes choses, parce que vous passez votre temps à en donner aux autres. Plus vous donnez et plus il y a à prendre, l'abondance n'a que les limites que nous lui donnons.
🇬🇧 I'm part of the universe, i'm part of the abundance, i create abundance because i share my good energies with the world, and the world shares its good energies with me.
Don't be afraid to take happiness, to take compliments, to take all the goodness, as you constantly share your energy, your time and everything with people around you. The more you take, the more you can share and vice versa. There is no limit to abundance, because we create it.
Le moment présent/Now
🌟 Je suis parfaitement bien avec qui je suis aujourd'hui, dans cette période de ma vie et avec ce que j'ai.
Ce mantra porte sur le pouvoir du moment présent, où tout est possible. Vos actions ne sont possibles que dans le présent, on ne peut agir ni dans le passé ni dans le futur. Du coup, soyez bien dans le présent, n'attendez pas le bonheur, ne regrettez pas le passé. Même si vous vivez une période difficile, appréciez-la pour ce qu'elle a à vous apprendre ou accrochez-vous à ce que vous avez.
🇬🇧 I'm perfectly good with myself today, in this period of my life, enjoying what i have and who i am.
This one is about the power of now. That's the most powerful gift we have. In the now everything is possible, every action is possible, because you can do anything in the past or in the future. So, feel good now, don't wait for happiness, don't regret the past. Even if it's a tough period for you, accept the lesson that life wants to teach you.
Guérison/Healing
🌟 Comment se servir d'un mantra en Sanskrit : un mantra est à l'origine une suite de sons sacrés qui vibrent et résonnent dans le corps pour toucher et guérir en profondeur. Vous pouvez écouter un mantra ou le chanter. Deva Premal et Snatam Kaur sont des groupes de musique spécialisés en mantra chantés. Vous pouvez les trouver sur toutes les plateformes musicales. Choisissez un mantra ( mes préférés sont Jap man sat nam et Ra ma da sa par Snatam Kaur, Gate gate par Deva Premal) et méditez en l'écoutant ou en le chantant.
🇬🇧 how to use a sanskrit mantra : before being just a sentence that means something for you, a mantra was a combination of sacred sounds that vibrates and resonates into your body to create a powerful healing effect. You can repeat mantras or listen to them. Music bands Deva Premal or Snatam Kaur turned mantras into pleasant songs. You can find them on Itunes, Spotify, etc… Choose your mantra and listen to it (or sing at the same time) while meditating.
🌟  Tout va bien. Il est important d'être capable de se rassurer soi-même. Ce mantra, répété régulièrement, c'est un message envoyé à votre enfant intérieur, qui parfois a peur et a encore besoin d'une voix rassurante, comme celle qui le berçait petit.
🇬🇧 Everything is fine. It's important to be able to protect and comfort yourself when you need it. So, now and then, repeat this simple mantra. It's like the voice of your mother always there to nurture your inner child who is just scared sometimes.
Les attitudes saines
🌟 3 choses à se répéter pour garder une attitude saine avec soi et les autres : je reste toujours centré, je suis responsable de moi, je suis doux avec moi-même.
Rester centrer veut dire ne pas s'aliéner ni se comparer aux autres. Être responsable implique de s'occuper de ses besoins et de ne pas blâmer les autres pour sa vie. Être doux avec soi signifie se comporter en ami, non se voir comme un ennemi.
🇬🇧 3 things to repeat in order to stay healthy : i always stay centered, i'm responsible for myself, i'm kind to myself
Staying centered means avoiding comparison or alienation. Being responsible is taking care of your needs and stop blaming others for what happens in your life. Being kind is treating yourself like a friend, not an enemy.